Big-time players make big-time plays and that's exactly what Danny Ciccarello did in the Salmon Arm Silverbacks matchup against the West Kelowna Warriors on October 9. It was a head-to-head weekend with both teams picking up a win and loss, and Ciccarello picking up a hat trick in game one to carry the Silverbacks to a much-needed victory. Check out all of Ciccarello's impressive goals with the Silverbacks in game three of the Okanagan Cup here.
With the Silverbacks securing their first win in the Okanagon Cup, they are showing a lot of improvement coming off back-to-back losses against the Penticton Vees. In the 5-4 win against West Kelowna on October 9, the hero in this action-packed game was Ciccarello. Potting goals three, four, and five put the team up 5-2 early in the third but also secured the 5-4 win after a strong push back from the Warriors late in the third. Nothing better completes a hat trick than a game-winning goal, which is how Ciccarello signed off his three-goal game.
Honestly not many people shoot better than @DannyCiccarello https://t.co/xN5JcKRZQC

— Carl Corazzini (@CarlCorazzini) September 8, 2020
Despite only being pre-season, it is Ciccarello's first-ever BCHL hat trick which could be granted to his rather impressive shot that's been turning heads in practice. 
Past history and accomplishments
Ciccarello was born in Kirkland, Quebec, and grew up playing for the Lac St-Louis Tigres Espoir. He spent two years in bantam AAA and one year in midget in the QMEAA.
To further his career, Ciccarello took his skills to St. Mark's School in Boston, Massachusetts to play high school prep hockey. At St. Mark's, he gathered 163 points over three seasons, which is a record at the school. The total lead him to become the second-ever player to surpass 150 points playing for the school.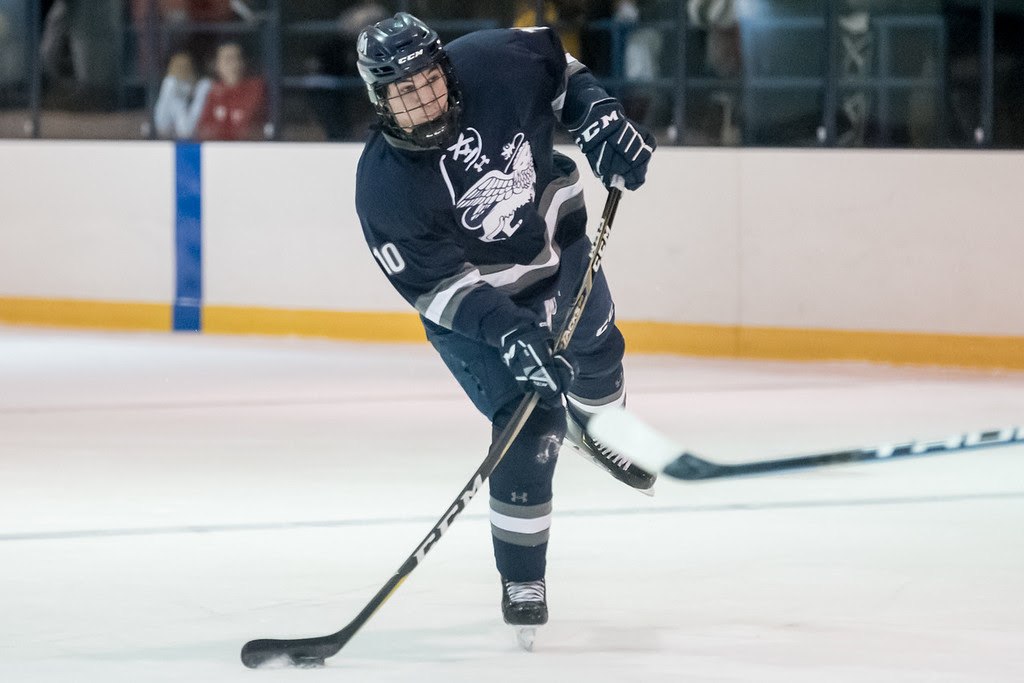 To top off his impressive career with the St. Mark's, he was named captain and awarded league MVP for the 2019-20 season, where he recorded 34 goals and 36 assists to complete a 70 point season.
Ciccarello also played 19 games for the Boston U18 AAA Little Bruins over the last two seasons and posted six goals and seven assists split between the Midwest High School U18 League and the Eastern Hockey Federation U18 Elite League.
Number 10 on the Silverbacks
It's been long overdue for Ciccarello to start his junior career and is exciting to watch him this season with the Silverbacks. Against West Kelowna, Ciccarello was playing right wing on the third line, accompanied by Braden Fischer on the left wing, and centering them was rookie Noah Serdachny.
Based on what's been shared on social media, Ciccarello is putting in the effort after practice to work on his shot, which appears to be one of his best skills. His skill in the offensive zone should open up some opportunities for him to unleash his shot or look for an opportunity for one of his linemates.
After more than 2 hours on the ice, Ciccarello & Matta are still out here working on their quick release with coach Damon.
Sansbury still on the ice too #workethic pic.twitter.com/7EsIsniNrb

— Salmon Arm Silverbacks (@SASilverbacks) September 21, 2020
With Ciccarello's impressive play, don't be surprised to see him jump to be a second or first-line player in the following games to come. The Silverbacks play a dozen pre-season games before things start for real in early December. Even without fans in the seats, keep an eye on the online broadcast for Salmon Arm's number 10 to create magic in the offensive zone.