Trail moves Senkoe to Spruce Grove
Trail acquires future considerations from Spruce Grove (AJHL) in exchange for 2001-born forward Jaden Senkoe.

Senkoe, a Westlock, AB native, had 7-13-20 in 74 games for the Smoke Eaters over the last three seasons. #BCHL | #BCHL60 | #BCHLNetwork | @BCHLNetwork pic.twitter.com/5TkTQXfREP

— Brian Wiebe (@Brian_Wiebe) October 16, 2021
The Trail Smoke Eaters have traded 2001-born forward Jaden Senkoe to the Spruce Grove Saints of the Alberta Junior Hockey League for future considerations.
Senkoe hails from Westlock, AB, and has played 74 games for the Smokies over the last three seasons. He finishes his career in Trail with seven goals and 20 points.
He was an alternate captain for the Smoke Eaters during the 2020-21 pod season in Penticton.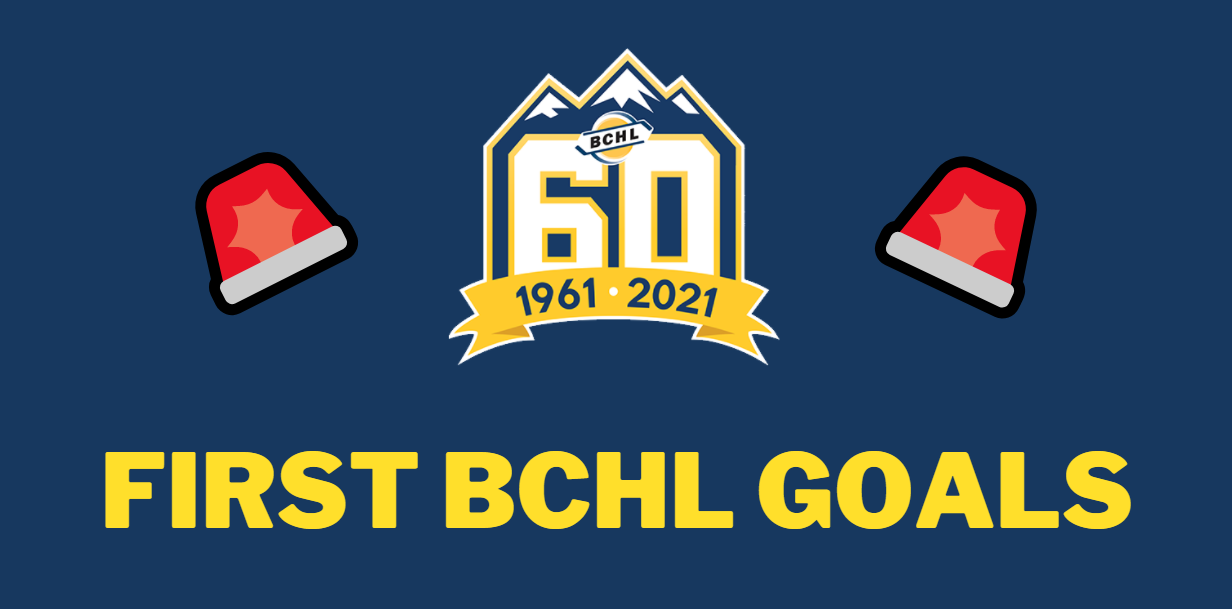 Cranbrook vs. West Kelowna first career BCHL goals
Warriors are on the board!! @Z_Reim10 scores from a tight angle and we're tied up at 1! pic.twitter.com/OlL6f7YPKM

— West Kelowna Warriors (@BCHLWarriors) October 16, 2021
It only took 11:54 into his first career BCHL game for West Kelowna rookie defenseman Zach Reim of North Oaks, MN to score his first goal in the league.
The tally was the Warriors' first of the game and tied it at 1-1 after Cranbrook opened the scoring and had a 1-0 lead after 20 minutes.
Merritt vs. Prince George first career BCHL goals
Merritt Centennials rookie defenseman Henry Smith scored with 11:14 remaining in the third period on Friday against Prince George.
The 2004-born Richmond, BC native's goal brought the Cents to within a pair but the Spruce Kings held on to win 6-3 and keep Merritt winless through three games this season.
Penticton vs. Trail first career BCHL goals
Bradley Nadeau's first BCHL goal and Stefano Bottini's marker has Penticton ahead by a 2-1 score after 20 minutes!

SOG 15-11 Penticton#BCHL pic.twitter.com/kKuqvs41DR

— Penticton Vees (@PentictonVees) October 16, 2021
University of Maine commit Bradley Nadeau found the back of the net for his first career BCHL goal as his Penticton Vees edged Trail 4-3 in overtime on Friday.
The 2005-born rookie from St-François-de-Madawaska, NB has played all three games this season for the Vees, tallying two points thus far.
Despite being a veteran of 63 BCHL games, 2002-born Trail Smoke Eaters defenseman Garrett Valk scored his first goal in the league on Friday.
The milestone marker came with 11:47 remaining on the clock in the second period of the Smoke Eaters loss to the Vees. His goal tied the game 2-2.
Nanaimo vs. Powell River first career BCHL goals
Late in the 3rd Nanaimo Clippers GOAL! ⛵️

🚨: Ethan Mistry
🍎: Austin Spiridakis
🍎: Jeremie Payant pic.twitter.com/q2fXqWLkf8

— Nanaimo Clippers (@ClippersHockey) October 16, 2021
2003-born Nanaimo Clippers blueliner Ethan Mistry continued the torrid start to his BCHL career by scoring his first two goals in the league in an 8-1 shellacking of Powell River.
The Brown University commit from Toronto, ON now has four points in his first three games with Nanaimo after opening the season with assists in back-to-back outings.
Chilliwack vs. Coquitlam first career BCHL goals
Harry Meirowitz found his first BCHL goal tonight!

Player of the game presented by @sussexinsurance #AllAboard #WeAreAllExpress pic.twitter.com/ozmnubvEJa

— Coquitlam Express (@BCHLExpress) October 16, 2021
Coquitlam Express defenseman – and Brown University commit – Harry Meirowitz notched his first goal in the BCHL in Friday's 5-2 loss to Chilliwack.
The 2003-born blueliner was scoreless through his first two BCHL games after the Old Westbury, NY product made his debut in the league a week ago against Surrey.
Alberni Valley vs. Victoria first career BCHL goals
Whooo hooo!!!!!

Tim Kim scores his first BCHL goal!

Assisted by @cammsmitth and @Elibarnett9

Time of the goal 3:23 pic.twitter.com/uIPExZsMfR

— Victoria Grizzlies (@BCHLGrizzlies) October 16, 2021
Timothy Kim posted his first career BCHL goal for the Victoria Grizzlies on Friday in a 3-2 overtime win against Alberni Valley. It extended the Grizz's winning streak to four games.
The 2004-born rookie forward from Vancouver, BC had an assist in Victoria's game against Cowichan on Wednesday for his first BCHL point.
Salmon Arm vs. Vernon first career BCHL goals
The Vernon Vipers dropped a 4-2 decision to Salmon Arm but #10 Luke Buss scores his first BCHL goal late in the 3rd period! pic.twitter.com/syULzALRVl

— VernonVipers (@VernonVipers) October 16, 2021
Vernon forward Luke Buss tallied his first career BCHL goal with 1:01 remaining in the third period to cut Salmon Arm's lead to 4-2 en route to a Silverbacks win.
The 2003-born right wing from Columbus, OH was playing in his second career BCHL game after making his Vipers' debut a week ago in Penticton.
The Avalanche assign Newhook to the American League
We have recalled Megna, Matteau and Sikura from the Colorado Eagles.

Newhook has been reassigned.#GoAvsGo pic.twitter.com/7FgaYvTe2u

— Colorado Avalanche (@Avalanche) October 15, 2021
The Colorado Avalanche announced on Friday that it has assigned forward Alex Newhook (60 goals, 108 assists in 98 games with Victoria from 2017-19) to the Colorado Eagles of the American Hockey League.
The 20-year-old from St. John's, NL, started the 2021-22 NHL season with the Avs, playing 10:30 in Colorado's 4-2 win at home against Chicago on Thursday.
He played six games with the Avalanche last season and posted three assists.
Florida sends Priskie down to the farm
The Panthers have assigned Chase Priskie and Maxim Mamin to Charlotte

➡️ https://t.co/7GlMz49CHv pic.twitter.com/LDOsddpSUq

— Charlotte Checkers (@CheckersHockey) October 15, 2021
Defenseman Chase Priskie (six goals, 14 assists in 57 games with Salmon Arm in 2014-15) was assigned by the Florida Panthers to the Charlotte Checkers of the AHL on Friday.
Priskie, a 25-year-old from Pembroke Pines, FL, signed a one-year contract extension with the Panthers in August. He posted seven points in 15 AHL games with Syracuse in 2020-21.
Marotte goes soaring with the Gulls
#FormerColonialWatch: Francis Marotte (@FrankMarotte) signs with @SDGullsAHL

Story by: @NateBreisinger ⤵️https://t.co/XuOV5HSnAB

— Colonial Sports Network (@RMU_CSN) October 15, 2021
26-year-old Francis Marotte (1-5-0, 4.86 goals-against average, .864 save percentage in 10 games with Cowichan Valley in 2013-14) inked a one-year, two-way contract with the AHL's San Diego Gulls on Friday.
Marotte, who's from St-Jean-sur-Richelieu, QC, was 8-3-1 with a 2.54 goals-against average, a .917 save percentage, and one shutout in a dozen games with the Allen Americans of the ECHL in 2020-21.
Three Stars of the Night ⭐⭐⭐
First Star: Salmon Arm forward Simon Tassy put up three goals as the Silverbacks got by Vernon 4-2.
Second Star: Veteran Nanaimo forward Sean Donaldson had a hat trick in the Clippers' 8-1 thumping of Powell River.
Third Star: Spruce Kings forward Nick Rheaume notched two goals and an assist in Prince George's 6-3 triumph over Merritt.
Honourable Mentions: Chilliwack forward Dawson Good had a goal and two helpers. Clippers defenseman Ethan Mistry and Chiefs forward Frankie Carogioiello each scored two goals. Silverbacks forward Noah Serdachny had a trio of assists. Vees forward Thomas Pichette, West Kelowna defenseman Isaiah Norlin, Warriors forward Marcus Joughin, and Spruce Kings defender Amran Bhabra each finished with a pair of assists. Trail goaltender Evan Fradette stopped 50 shots.