A change of scenery proved to be a difference-maker for Mike Stutzel.
After spending the first two and a half years with the Powell River Paper Kings, the Victoria, BC product was traded to the Prince George Spruce Kings and the rest is history.
Once in the northern capital, Stutzel's offensive game went to another level and he notched 13 goals and 22 assists in the final 28 games in the 1997-98 BCHL season.
"I owe a lot to (Spruce Kings coaches) Len McNamara and the late Dale Marquette as that was the best thing that ever happened to me hockey-wise. I had great teammates, great management and I am really happy I got traded there."
"Going from a coach that sort of beat you down a little to a coach that gave you all the confidence in the world and coach Marquette put me on a line with Dave Kozier. All of a sudden I had confidence and felt I belonged in that league."
Stutzel's offensive game reached new heights the following year where he exploded for 102 points in 58 games.
Prince George finished second in the Interior Division with a record of 37-20-3, lighting the lamp 305 times.
"Our management surrounded people like me with talent. They brought in Noel Burkitt from Ontario who was a great linemate and player. As a team, we got along both on and off the ice and we were having fun. It was my biggest stress-free year of playing hockey ever."
"Vernon and Penticton were viewed as the cream of the crop and we wanted to show that we could compete with them. We had a great culture and when it's well below zero and snowing and you're getting up for a 7 a.m. practice that is where you bond together to pick each other up. It was a great group of guys."
In addition, Stutzel's physical game increased ten-fold, accumulating 102 penalty minutes. The increased edge came from emulating NHL players he grew up watching like Jason Arnott and Brendan Shanahan.
"I just wanted to be a bigger body who was physical and I wanted to play in the NCAA. I wanted to do what it took and at that time penalty minutes meant something. In Powell River, I was asked to do that and pushed back a little. In Prince George, I wanted to do it so I could stick up for my teammates."
The 42-year-old loved playing in the friendly confines of the Rolling Mix Concrete Arena. Especially during quirks in the schedule where the Spruce Kings were the only game in town when the Western Hockey League's Prince George Cougars were on a road swing.
"It was awesome. You don't find that atmosphere anymore when you go into a rink and you smell that mixture of concession food and popcorn and the ice. It really was what junior hockey was all about back then. The nice comfortable rinks are great too with all of the amenities, but there was just something about it that symbolized Canadian hockey."
Stutzel played with star blueliner Brad Fast that season before the defenseman from Fort St. John was picked by the Carolina Hurricanes in the third round of the 1999 NHL Draft.
Running with the Wildcats
After his stint with the Spruce Kings ended after a sweep in the 1999 Interior Division final at the hands of the Vernon Vipers, Stutzel headed to Northern Michigan University.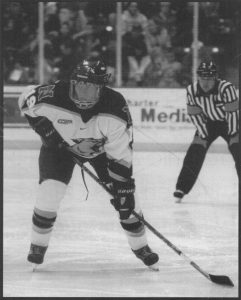 In the 1999-2000 campaign, he accumulated nine points in 29 games during his freshman year in the NCAA. Northern Michigan saw its fair share of success with a mark of 16-8-4, tied for 3rd place in the CCHA but lost the qualification series to Nebraska-Omaha.
"I didn't want to go to the biggest school with the nicest stuff that was winning a lot. At the end of the day, Northern Michigan had a couple of players from British Columbia – one of my best friends was playing there and I knew I was getting honest answers about it. It was a lot like Prince George."
"There is ice fishing, there is snowshoeing and lots of sledding and then there is the big hockey rink at the edge of Lake Michigan and every Friday and Saturday night they would fill it," added Stutzel.
After a shortened sophomore season, Stutzel's offensive production ticked up in year three with 33 points in 40 games.
"My second year was cut short due to reconstructive shoulder surgery and prior to that, the coach was starting to come around to me. I was even playing the point on the power play, something I had never done before and haven't done since and then I got injured."
"The following year, I got put with a very talented centreman and benefited from being able to play with him. (I) realized I could play after university a little bit."
Stutzel took a step further in his senior year, lighting the lamp 27 times while adding 12 assists.
"That summer I decided I wanted an NHL contract and I got an agent – my parents said that I didn't have to work that year so I could concentrate on working out. That's all I wanted was to prepare and put myself in that position."
Desert bound
After his time at Northern Michigan came to a close, Stutzel realized his dream and signed his professional contact with the Phoenix Coyotes. While the thrill of inking with the Coyotes was off the charts, it wasn't his first choice.
"I really thought I was going to end up in Anaheim. I had a good relationship with (the Ducks) throughout the year and that is where I thought I was going to end up. I was offered a little more money to go to Boston but my agent thought (I) should sign with Phoenix. We took a little less money and my agent was right and I got my opportunity that year."
In his first pro season, Stutzel spent the majority of the time in the American Hockey League with the Springfield Falcons where he amassed 24 points in 62 games before getting the call of a lifetime. He appeared in nine games with the Coyotes but failed to register a point.
"It all happened quite quickly. I was playing well at the beginning of the season and I sort of ran into the politics of things. Two guys who hadn't scored yet and were first-round draft picks got called up and I didn't. As the grind of the AHL season wore on, I really struggled for a bit and then I had a couple of good weekends in a row."
"A group of us grabbed a case or two of beer and we turned off our phones and we just hung out one night. I must have had my phone off for about eight hours and then I turned it on before I went to bed and I had a million voice notes."
"My flight was scheduled to leave at 5 a.m. and I had no idea so I had to pack and sober up a little bit just to get on a plane and it happened so fast from there. I flew to Phoenix and we played Anaheim the same night and that was my first game."
Because everything happened so fast, Stutzel wasn't able to get his dad down until his second game where the Coyotes played the Detroit Red Wings, who still had the likes of Shanahan, Brett Hull, and Steve Yzerman.
"We had 18,000 fans in Glendale and about 12,000 of them were Red Wings fans. I was living my dream. I finished the year in Phoenix and while I wasn't putting up numbers, I was playing my game, which was a little more physical, and playing on the fourth line."
A wasted season
"I went into the summer without the same mindset and didn't work as hard as I should have. Looking back, I thought that I had made it and didn't need to work as hard."
"I came back and my coach in Springfield was Marty McSorley, who loved me, and then he got fired and they hired Pat Conacher, who was a lot like my coach in Powell River. (He) beat me down and didn't think I could do anything right. Within five to 10 games, I had given up on myself and it was a really difficult time. It was a miserable situation I couldn't get out of."
"I ended up gambling on a game day on a road trip. I got caught doing it and was sent down to Idaho the next day, which actually for the first time I enjoyed hockey again."
Stutzel played another season with the Steelheads, amassing 45 points in 41 games before jettisoning off to Finland and suiting up for Tappara.
"I found out later in the season our coach in Idaho was holding us back from call-ups because he wanted to win games. Halfway through the year, I realized I had to leave even though I loved the guys and the city of Boise. I got a phone call from someone I played with at Northern Michigan and I was on a plane to Finland a couple of days later."
Back to Victoria
Stutzel's career came full circle, returning to his hometown where he played one season with the ECHL's Victoria Salmon Kings in 2006. More on-ice success followed as he tallied 52 points in 61 games.
"I realized at that point getting back to the NHL was unrealistic and I did it for the experience. I hadn't been given the chance to play a game in Victoria since I went through with Prince George and I could get on with my life."
"I bought a place and didn't have the chance to use it. At that point, I was playing for the experience. I got to live at home and started to think about life after hockey."
The Salmon Kings finished the regular season with a 36-32-1-3 record but were ousted in six games by the Alaska Aces in the playoffs.
The franchise folded in 2011 after the arrival of the WHL's Victoria Royals – a move Stutzel feels wasn't the best.
"The (ECHL) is a good league played by men and all those players who played in the WHL played very well just to get to the ECHL. Being a fan, it was a downgrade but with that said, when you watch the Western (Hockey) League, you may see the next great superstar."
Stutzel finished his professional playing career in Scotland for the Edinburgh Capitals, registering 66 points in 53 games during the 2007-08 season.