Every BCHL team seems to have one employee that bleeds the franchise's colours day in and day out. In the case of the Prince George Spruce Kings, look no further than Mike Hawes.
The 51-year-old local product grew up in BC's northern capital, coming through the minor hockey ranks. After leaving his hometown following his last year of Midget, Hawes embarked on a four-year journey through the Western Hockey League and BCHL.
In 1986-87, Hawes burst onto the scene with the Spokane Chiefs, compiling 24 goals and 22 assists to go along with 117 penalty minutes in his rookie season.
"I think I got my legs under me fairly quickly, put together a pretty good year – as well (as) what I think are three fairly good years from an individual standpoint – in the Western League. You grow up quickly for sure when you are 16 and move away from home to play hockey and pursue your dream. I did that and have a lot of memories from that time for sure."
Not bad for a guy who was rubbing shoulders with future longtime NHLers in Travis Green, Mick Vukota, and Brent Gilchrist. His offensive progression took another step in year two – this time with the New Westminster Bruins.
Hawes lit the lamp 38 times and also chipped in 36 helpers on a team that featured future pros like Olaf Kolzig, Stu Barnes, and Dusty Imoo. In 1988-98, the Prince George product found himself back in Spokane following a five-game stint with the Tri-City Americans.
For the second consecutive season, Hawes scored 38 goals while playing alongside Green. The Chiefs also featured a trio of blue-chip prospects in Ray Whitney, Jon Klemm, and Pat Falloon.
Admittedly, Hawes didn't quite have the same sense of urgency during his final year of junior hockey and left the Chiefs after four games. He would then split the year in the BCHL with the New Westminster Royals and Ladner Penguins. Over the span of 47 games, Hawes accumulated 69 points.
"As a 20-year-old, I just didn't quite have the same motivation to go back to the WHL as I should have. I then went to the Lower Mainland and my (then) girlfriend – now my wife – was going to school and I decided that is where I wanted to be."
Back in the game
After a lengthy hiatus away from the game, Hawes was hired on by the Spruce Kings in 2005-06 as an assistant coach. "I had an itch to get back into coaching and give a little bit back. In 1997 or 1998, I started coaching minor hockey with Bantam teams."
"During that time, I developed a pretty good relationship with Daryl Lubiniecki, who was the general manager of the (WHL's) Cougars at the time, and Ed Dempsey, who was the coach," added Hawes.
"I became pretty good friends with them and ended up jumping on board with the Cougars as a scout and got my hockey fix that way. I ended up working with the Cougars for about six years. When Eddie left and went over to the Spruce Kings, he and I had a conversation and talked about the idea of me joining them as an assistant coach."
The 2006-07 campaign was a pretty special one in Spruce Kings history as they were the hosts of the Royal Bank Cup national junior A championship, which was held at CN Centre. PG went 34-19-2-5 during the regular season, finishing fifth in the Interior Division. But, it wasn't until after the Christmas break where the Spruce Kings loaded up.
"We added some key pieces (who) ended up being very important in the national championship and the rest of that season. It was quite a year, it was a very interesting year. There was a lot of added pressure to do well and we did, we had a great regular season, and high hopes going into the playoffs."
The Spruce Kings ended up sputtering out of the first round, dropping a seven-game set to the Salmon Arm Silverbacks, leading to a lengthy layoff prior to the RBC Cup.
"It was a tough, tough series. The pressure was certainly on us to have success. We had built a team to win the RBC and I think in the end, a little bit of that pressure certainly got to us and the players a little bit. It was a really good series but it was on us to advance (and) didn't turn out that way for us."
"When we got knocked out of the playoffs, we had 52 days until the tournament (started) so we had to quickly come up with a plan. What we decided was to send the players home for a couple of weeks. Then we brought them back and almost went through a training camp scenario similar to what you would do at the start of the season."
The big stage
After a nearly two-month layoff, the Spruce Kings were eager to hit the ground running at the Royal Bank Cup and added another weapon to its disposal. Future Chilliwack Bruins star Ryan Howse was called up for the big tournament as a 15-year-old.
"Ryan always was an extremely dynamic player and even at 15-years-old was electric and probably the best skater in the tournament even at that young age. We got into that five-overtime game and he probably didn't play as much as had earlier in the tournament but we were able to utilize him during the round-robin portion."
As the tournament hosts, the Spruce Kings put up a respectable 2-2 record during the round-robin portion, holding their own against juggernauts like the Aurora Tigers, Camrose Kodiaks, Pembroke Lumber Kings, and Selkirk Steelers.
"We were feeling pretty good and we were playing quite well. We went on to the semifinals against Camrose, which turned out to be a record-setter with the five overtimes. It hurt us going as long as it did but the fact we ended up making that final game and finished with a silver medal."
109 minutes
Going toe to toe against one of the elite programs in Canada always requires your best, but the Spruce Kings certainly pushed the limits against the vaunted Kodiaks. As mentioned earlier, the Spruce Kings upended Camrose in quintuple overtime to advance to the final against the eventual champion Tigers.
But the game against Camrose was nothing short of an instant classic. "It was a battle right from the drop of the puck. As the game went on, I just remember myself being so into it and it lasted almost six hours but it seemed to fly by for me. Even though we went five overtimes, each individual period seemed to go by in five minutes."
No one saw more ice time in that game than blueliner Nicholas Rioux, an acquisition from Quesnel who reeled in 109 minutes of ice time, mostly spent playing against Camrose's top line. Jason Yuel ended up scoring the game-winner for Prince George, which had to endure a quick turnaround heading into the final.
"We celebrated briefly but then we had to get right back on the horse because TSN changed the schedule for the tournament. They moved the start time from 4 pm to noon, so here we are finishing our game at one or 1:30 in the morning and had to play again in eleven hours."
"We had to get the players settled down after winning the game but the problem was not many people can go right to sleep after playing a grueling game like that. We had to find a way to get them some sleep. I remember Nicholas (Rioux) was with the team doctors getting an IV because he was so exhausted," added Hawes.
The Spruce Kings ended up dropping the final game 3-1 to Aurora.
Rebuilding the Castle
Predictably, the Spruce Kings endured some pretty lean years between 2007 and 2011, accumulating a losing record in three of those seasons. However, Hawes continued to climb up the organizational ladder and was appointed assistant general manager and director of player personnel.
"We didn't sell the farm but made some moves heading into the national championship that were going to hurt the team with some of the guys we ended up losing. There were a couple of lean years and we knew that was going to happen but bounced back and the next few years (just) didn't have enough consistency."
On Mar. 31, 2011, Hawes became the Spruce Kings general manager, a title he has held ever since.
Chad and Jeremiah
After coming off a 33-21-2-4 record during the 2011-12 campaign, the Spruce Kings continued to reload and were able to land one of the more dynamic duos in franchise history.
Jeremiah Luedtke and Chad Staley, who were both from the Seattle area, came to the northern capital and made magic happen on the ice during their three seasons together.
In 2012-13, both rookies reached the 20-point plateau on a team that went 25-22-1-8. In year two, Staley and Luedtke drove the bus offensively for the Spruce Kings, finishing first and second in scoring with 62 and 55 points respectively.
In 2013-14, PG finished a strong second in the Mainland Division but fell short in a semifinal six-game set to the Coquitlam Express.
However, Luedtke and Staley ultimately saved their best for last, helping the Spruce Kings advance to the second round of the BCHL playoffs while also leading the team in regular season scoring for the second consecutive year.
"I remember a lot about them. Chad and Jeremiah were players we had recruited out of the Wenatchee Wild midget program and we had seen them play in a midget tournament in Kelowna. They came up to a spring camp that we had and were both there and we signed them both."
"They were tremendous players for us for three seasons and then both went on to college hockey. Chad was our captain in his last season but both were dynamic and very gifted offensively. They worked very hard in their defensive end and by the end of it, were two of our top penalty killers."
Sadly, Staley passed away after playing a rec league hockey game in his home state during the spring of 2020.
A return to prominence
The Spruce Kings struck lightning in a bottle for two seasons as they were among the BCHL's elite teams. Led by a core that included Dustin Manz, Patrick Cozzi, Ben Brar, Ben Poisson, Layton Ahac and Evan DeBrouwer, the franchise claimed its first Mainland Division banner with a mark of 33-17-4-4 in 2017-18.
The team brought a buzz to PG during the postseason, selling out the Rolling Mix Concrete Arena on a regular basis, giving the fans their money's worth. A pair of dramatic seven-game series victories over the Chilliwack Chiefs and Surrey Eagles certainly got the public's attention.
However, Hawes was quick to point out that many of the building blocks were put in place the previous season. "The team had a newfound confidence after losing a hard-fought series to Wenatchee in six games and we knew there were upper-echelon teams in our league but we were now one of them so we went into (2017-18) with that mindset and it really paid off."
Prince George punched its ticket to the Fred Page Cup final after dispatching Powell River in overtime on home ice. In the final, the Spruce Kings faced a stiff test in the Wenatchee Wild where they fell in five games, but the league's northernmost franchise was certainly on the map.
"You could see the writing on the wall, based on the players we could roll over into the following year from that playoff run where we made the league finals. The future was certainly bright for the following year."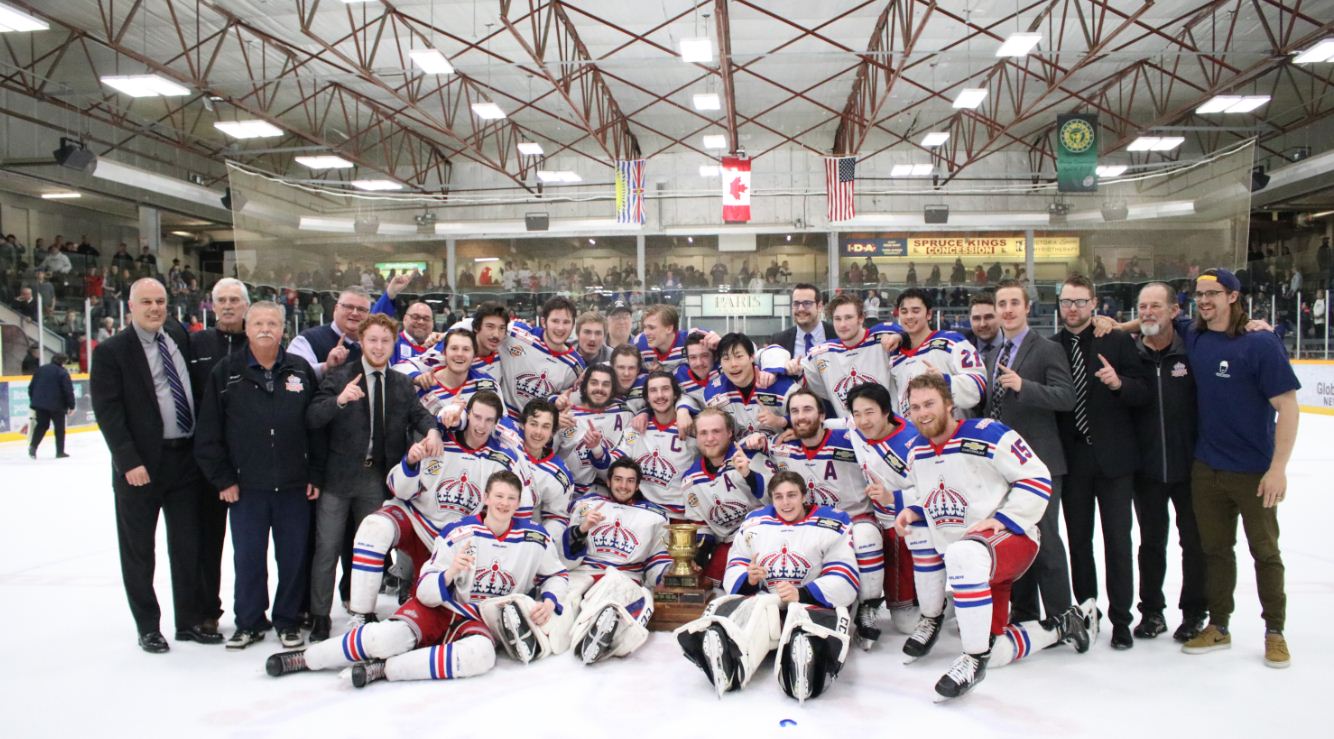 The Spruce Kings completed their climb to the top in 2019, going 16-1 in the postseason, and sweeping their final three opponents, which were the Chilliwack Chiefs, Victoria Grizzlies, and Vernon Vipers.
"To go 16-1 in the playoffs, I don't think it has ever been done before and I don't think it will ever be done again. It just speaks to the character of that group from the coaching staff right down through every one of those players. It was phenomenal and something we are really proud of," added Hawes.
"It is not an arrogant thing but we deserved every aspect and the players deserved every aspect of the success they had that year." Players such as Corey Cunningham, Chong Min-Lee, Nolan Welsh, and Nick Poisson grew by leaps and bounds and were major contributors to the championship run along with trade deadline acquisition Lucas Vanroboys.
However, none of it would have been possible without the stellar goaltending of Logan Neaton who tallied a 1.46 goals against average along with a .940 save percentage. The magical run continued for the Spruce Kings and claimed their first ever Doyle Cup crown on home-ice, outlasting the top-ranked Brooks Bandits in six-games.
"We knew the RMCA was going to be rocking. We had given away the towels, there were ticket lineups out the door and everyone was amped up. Once we had won game four, everything kind of fell in line where the momentum was on our side. This building isn't the sexiest but once you have 2,200 people on top of you in an old building that has nostalgia and character, it's a tough place for visiting teams to play."
This led to the national junior A championship in Brooks where the Spruce Kings fell just shy of completing the trifecta, losing to the host Bandits by a single goal. After winning the Chilliwack hub this past May, the Spruce Kings return to the ice in September where they gear up for their 2021-22 BCHL season-opener in Merritt against the Centennials, once again with Hawes at the helm.