Alex Murray considers himself one lucky individual.
His playing career spanned three countries and two continents, making countless memories along the way.
Murray played the 2013-14 season in the BC Hockey League with the Prince George Spruce Kings and recorded a stellar 23-11-0 record in addition to a 2.41 goals-against-average.
He adopted an eyes-wide-open approach when making the trek to the Northern Capital after leaving his home province of Ontario.
"Honestly, I didn't know what to expect. I didn't know much about Prince George other than a few guys telling me it's really cold, but the level of hockey was really solid and way better than where I was playing before. Our team was very solid and I put up good numbers, but it was mostly attributed to how good our defense was."
"We (also) really had a tight group of guys. You spend nine hours on a bus together you really get to know each other and I think that is what made us really good."
Murray knew right away PG was passionate about its hockey during the early days of training camp.
"When I first got there, I was excited when the fans attended the training camp sessions. I never experienced that before and in Burlington, we never had tryouts like that where fans would come out to watch."
"I loved the wilderness in Prince George. (It) is something I have a little experience with but being up there was definitely something different."
The Spruce Kings finished 32-20-4-2, good enough for second place in the Mainland Division.
Prince George boasted an elite blueline that season which included Christian Weidauer, Mitch Eden, Skylar Pacheco, and Karan Toor.
Due to lack of star power, Murray explains how the Spruce Kings needed to score by committee, with the club receiving contributions from the duo of Chad Staley and Jeremiah Luedtke along with Justin Rai, Brent Lashuk, and Jake LeBrun.
"I think we were really deep overall. We never really had that one big line but I think we had three first lines and a fourth line that could pitch-in here and there. We were well coached and played a defensive system. In that league (the BCHL), there is a lot of parity so I felt we could compete with anybody the way we played."
Murray remembers playing on the road against West Kelowna while the Spruce Kings had a flu bug moving around between players, which led to one of the grittiest performances of the season.
"I remember being on the bus for nine hours and I think we had six guys out of the lineup, forcing us to go with two-and-a-half lines and four defensemen. They were first place in the league at the time and we ended up beating them. We had no reason to win that game, everybody was sick on the bench (and) throwing up, but we found a way and rallied around the group when sometimes we didn't deserve to win."
Murray still marvels to this day about the fan support at the Rolling Mix Concrete Arena.
"It was incredible. A smaller city like that where hockey is the staple sport and they showed up every time. We started doing better, we would get a packed house and I tell you what, I wouldn't want to be a road team going into the Rolling Mix Concrete Arena because of how much the fans are on top of you and it was such a great atmosphere."
"We fed off that energy and I think was a big reason why we had one of the best home records that year. We knew we had a few quirks in that rink that played to our advantage like playing the puck hard off the corners. It was the ultimate home-ice advantage."
Falling short against Coquitlam
After a promising regular season, Murray and the Spruce Kings felt like they were primed to go on a long playoff run in 2014.
However, those plans were quickly derailed after falling in six games to the Coquitlam Express during the division semi-finals. Murray feels the team was dealt a bad hand when it came to the injury bug.
"It was a great back and forth battle and we had Coquitlam's number in the regular season, beating them five out of six times. I don't know if they were the better team that series, but we did run into a lot of injuries. Our captain Bryant Christian had a broken jaw and played games three and four with that injury, so hats off to him."
"Justin Rai's knee blew out during the last game, one of our defensemen Karan Toor tore his groin, and Brent Lashuk got hurt as well. We had a lot of injuries, but we continued to battle and pushed it to a sixth game. They ended up beating us and unfortunately we didn't get the result we wanted, but we can't take away anything from Coquitlam. They played hard too."
You couldn't go far on that 2013-14 Prince George team without mentioning the efforts of the late Chad Staley.
The Wenatchee, Washington product led the Spruce Kings in scoring that season with 29 goals and 33 assists while playing alongside his best friend Luedtke, who also chipped in with 55 points.
Sadly, Staley suddenly passed away last March at the age of 25.
"He was an unbelievable player, the ultimate team guy – I can't believe it's been almost a year (since he died). He was the type of guy that would do anything for his team. He was our top centre and would always block shots on the penalty kill."
"He was always in a good mood – laughing, smiling, and making jokes. He and Luedtke were basically twins and never left each other's side. They were just two of the same. They played together in Wenatchee and had good chemistry going and did all of these trick plays they started in practice. They were a pleasure to watch honestly."
Playing for the Yellow Jackets
Murray committed to NCAA Division I American International College in Springfield, Massachusetts, where he spent all four years.
The 28-year-old acknowledges that AIC pursued him pretty hard during his last year of junior hockey and gave him the best opportunity to play immediately.
"I wanted to play Division I hockey, not just be on a roster. It was an incredible four years with them."
Murray shouldered the load on a rebuilding program, playing 60 games his first two seasons with a combined 10-39-8 record in the process.
"We were a struggling team when I got there, but I got a good opportunity to play. It was frustrating at times because everyone wants to win and be a champion at the end of the year, but it allowed me to grow. I learned a lot in those first two years."
"Gary Wright was an incredible coach and I faced 30 to 40 shots a game. That is what you want as a goalie."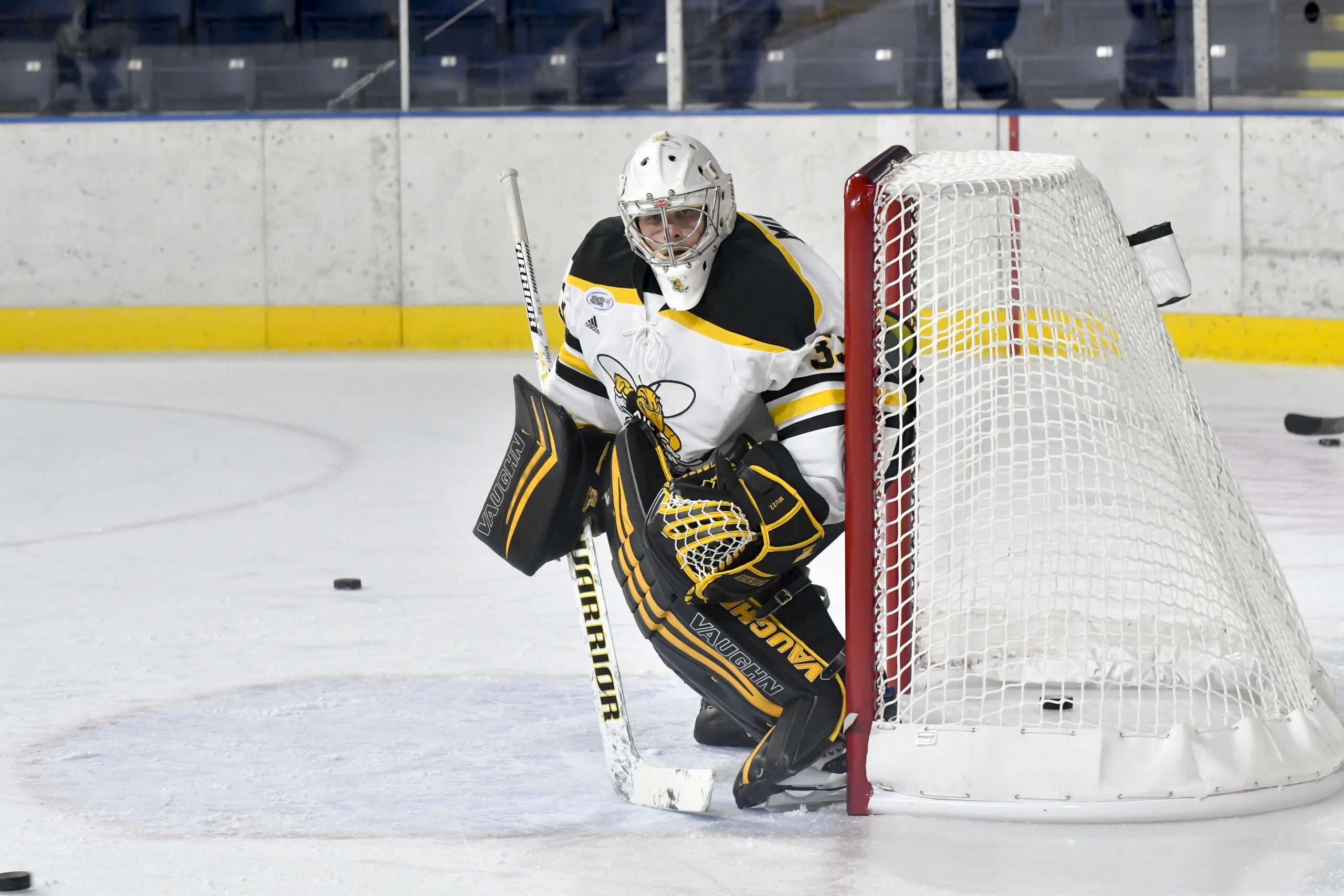 After his sophomore season, the Yellow Jackets made a change behind the bench and hired Eric Lang. In year three, AIC went 7-14-7 in the Atlantic Hockey Association and lost out in the first round of the playoffs against Mercyhurst.
Even though Murray only played six games in his final year of college hockey, the Yellow Jackets finally climbed up the standings under Lang. AIC went 11-13-4 and beat Niagara in the first round before falling to Canisius in a hard-fought three-game set.
Close with Christian
Over a five-year period, Murray became good friends with Christian. Both played together with the Spruce Kings and then made the jump together to the collegiate level at AIC. Christian spent two years in Prince George and always brought that blue-collar work ethic on the ice.
"He kept you accountable. He wasn't the most talkative guy and never scored fancy goals, all of them were driving hard to the net with a guy on his back (while) getting cross-checked in the face. He was responsible defensively as well. Bryant led by example more than anything, he was the first one to class and everything he did was the right way."
"Bryant and I shared dorms during my freshman year and then we lived together in years three and four. He was our captain at AIC as well and is a great leader. He played his last junior game and his last college game with pretty much a piece of his body falling off."
According to Murray, Christian played the final game of his collegiate career and as AIC's captain on a broken leg.
Off to New Zealand
Following his NCAA playing days, Murray embarked on a three-team tour of the Southern Professional Hockey League, which included stops in Fayetteville, Knoxville, and Evansville.
After getting bounced around, Murray took a leap of faith and headed to New Zealand where he played for the Skycity Stampede to wrap up the 2018-19 hockey season.
"I went there along with a childhood friend who was already over there playing and it was incredible. If anyone has the chance to go there after the pandemic is over, you wouldn't be wrong to go to New Zealand."
"I was hesitant at first but I went over there and I don't regret it for a second. When you arrive, it looks like you're flying over Jurassic Park, but it's absolutely wonderful."
Murray played in Queenstown, which is considered a popular skiing and resort-type community.
While hockey isn't the top sport among the Kiwis, the country's core group of hockey fans really enjoy it.
"The support on that team was incredible. They didn't have huge arenas, but they packed it and those fans were insane and so passionate about their time."
"It is the fastest growing sport in that country next to rugby and cricket. They are growing the game there and they just added another team in their pro league."
"Every road trip we had they would cater to the imports to experience New Zealand. When we went on road trips, we took a ferry to an island like Milford Sound, which is the eighth wonder of the world, and is where the show Vikings was filmed. You could see all the Lord of the Rings stuff too. It's a beautiful place."
In 18 games, Murray posted a 1.61 goals-against-average with a .936 save percentage and was named the New Zealand Ice Hockey League top goaltender.
Murray left the game as an NZIHL Champion and is now back home building custom houses in Ontario with his dad.