(This article was originally published on Jan. 24, 2021)
From shooting pucks to changing tires, life has been quite the journey for Shaun Peet.
The 45-year-old from Nanaimo started out like every Canadian boy, with aspirations of making it to the National Hockey League, but sometimes the road less travelled is more rewarding.
Peet chatted with me about how his hockey days subsequently landed him into the popular American pastime known as NASCAR.
It all started way back in the 1992-93 season where he made the Clippers as a bottom-six forward who played a gritty hard-nosed game on a nightly basis.
"It was fantastic. Growing up, I would go to those games as a kid. I think every young hockey player coming out of Nanaimo aspired to be a Clipper and it's funny because I never thought I was a good hockey player. When I made that team, I think it was more born out of hard work than ability, and my willingness to get into the undesirable stuff like the fighting, but it was great," said Peet.
"Out of all of the things I have done in my life, making the Clippers is one of the accomplishments I am the proudest of because I felt it was such a longshot that first year."
A dream come true
Peet had to pinch himself as he was in the same locker room as some of the players he was accustomed to watching.
"I was kind of in awe just watching some of these guys come through and then you are on the ice with the likes of Jason Disiewich, Brian Veale, and Phil Valk and it was just the next level. It was the first time that someone had bought my stick for me and as a hockey player, that's a big deal when it happens for the first time."
"It was also the first time I had signed an autograph. It was great because there were a couple of guys who I had played minor hockey with like Dan Murphy and Brent Murcheson and we all made the team together. So it was a little bit of the past meshed with the future but you know, when you make one of those rosters, you have the chance to go somewhere else."
Peet racked up four goals and eleven assists to go along with 153 penalty minutes in his only season with the Clippers.
"I had no problems going into the corners and I was willing to fill the role other guys wouldn't and again, that was probably born out of a lack of ability. I followed that blueprint my whole career and it's funny because I had a belief that I wanted to make the Clippers so bad – Parksville is about 30 to 40 kilometres north of Nanaimo – and I used to get on my bike and ride back to Parksville just so that I could get on the ice for two dollars an hour."
"Somebody saw me doing that – and I am a big believer that part of that narrative played into the eventuality of making that roster because I remember riding home at night thinking about how many players were left in camp and I never saw myself on that 20-man roster," added Peet.
The rugged forward reflects on his rookie season and has fond memories that stick with him to this day.
"One of our top-line forwards was hurt and I think our other two lines were clicking so our coach didn't want to mess with them. I had the chance to go up with the big line and it was almost surreal because I was scoring in the BCHL. It was a short stint (though) as I played most of the year with Cory Green and Chris Buie. We had just decided that if one guy was going to go (fight) the other two might as well," Peet chuckled.
"I remember more line brawls that year than ever and I just had a ton of respect for those guys as I enjoyed them immensely. Because we were the Clippers, I remember spending a lot of time going to the rink early and (there were) days where we could go skate. I took full advantage of having that much ice time to develop my game."
Thank you Bill
Peet also had the fortune of playing for legendary Clippers head coach Bill Bestwick at the midget level, which propelled him into the junior ranks.
"Without Bill Bestwick, I don't make the next level. I think there are a lot of great hockey players in Canada and there's not a lot of spots in college and I think a lot of it comes down to who is banging the table for you. I had no one banging the table for me except for Bill Bestwick and I think he was instrumental in getting me to where I got to, even when I was going to play hockey at Dartmouth."
"What's interesting is when he was doing it, I wasn't playing for him. He was the head coach in Cowichan and I was in Penticton and there he is talking to scouts about me. So I am forever grateful for Bill Bestwick because (he) has shaped my life in a way that I never thought I could."
Peet suited up for the Panthers during the 1993-94 campaign and tallied 17 goals and 26 assists, adding in 132 penalty minutes for good measure.
This led him to becoming an Ivy Leaguer after committing to Dartmouth College, where he played four seasons.
"Again, I thought making the Clippers was a long shot so a college scholarship I thought was even further away. So like I said, I fought everyone I could my first year in Nanaimo, and then in the summer, I went to a pre-entry draft camp in Vancouver. I wasn't on any WHL teams radar and I wasn't highly sought after. My coach at that thing was Mark Goble, who was the assistant coach in Penticton, and they were bringing these two French kids in (Dany Bousquet and Martin Lapointe) and they were just dynamic."
"Penticton had a problem with Vernon who had a really tough kid in John Morabito and Don Hearn who was in Kelowna. I got traded to Penticton that summer to play with those two French guys and the majority of my points came in the first three or four weeks (and) that coincided with when all the college scouts came up. Here I am, six-two, scoring 16 goals in 19 games, so I was pretty attractive. But anybody could have played with them and I parlayed that into an opportunity at Dartmouth."
Playing with the Big Green
Dartmouth is located in Hanover, New Hampshire and was established in 1769. Much like first suiting up for the Clippers, Peet was blown away by the campus.
"It is steeped in tradition and the school is really difficult so it took me my first semester to really get acclimated to it. I ended up graduating with a double-major and I was very proud of that. Hockey was tough, I was recruited down there as a forward and was moved back to defence my sophomore year and really struggled because college is such a fast game."
"In my first game on defence, we were playing the University of Vermont and on the first shift we were up against Martin St. Louis and Eric Perrin, and Tim Thomas was in net, so needless to say, that didn't go so well. But that switch to defense is what allowed me to play pro after Dartmouth."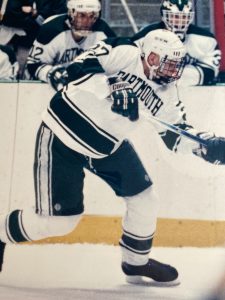 Was there any inkling back then that St. Louis and company would become NHL stars?
"It was crazy because of what they would do to us in our arena – I have never seen anything like it. (Even) at his height trying to knock (St. Louis) off the puck was hard because his legs were like tree trunks and they were a one-line team you could not stop."
"The fact that you throw Tim Thomas in net on that same team, they were great and it was crazy because they were our big rival because they were an hour away in Burlington but imagine coming out of your home rink and the whole place is chanting UVM, you couldn't get season tickets there so they all came to Dartmouth and blow us out of the barn. Marty was something to watch."
In 76 career games at Dartmouth, Peet compiled three goals and 13 assists.
Southbound and down
After college, Peet started a tour of the deep south playing professionally on teams like the Corpus Christi Ice Rays (WPHL), South Carolina Stingrays (ECHL), Macon Whoopee (CHL), Greensboro Generals (ECHL), New Mexico Scorpions (CHL) and the Winston-Salem Polar Twins (SPHL).
He admits while hockey has come a long way in the United States, the type of fan that attends is a lot different.
"My first year when I was playing in Corpus Christi, which is the closest pro team for about three hours, we were like the Vancouver Canucks to these people and it was barely believable. We played in this tiny arena, which held like six or seven thousand people, and they were scalping tickets for near-NHL prices. It was crazy, we would score and they would throw stingrays on the ice and it was fascinating because it was built by a bunch of former Canucks."
"Taylor Hall was the coach, Frank Caprice was the goalie, Craig Cox was one of the forwards and it was all these players I grew up watching. During their heyday, there were more pro hockey teams in Texas than in all of Canada. The best way someone explained it to me down there was when you put beer, air conditioning, and fights in the same place, you are going to be a hit."
"To speak to their lack of knowledge, we were at the home opener in Laredo and it's packed and loud inside this brand new arena for the first two periods, but when we came back out for the third it wasn't even at a tenth of the capacity. What happened was people in Texas thought it was like a football game where it was two halves, so they left after the second and had no idea there was a third period. They (had to) put an announcement in that there are three periods in a hockey game."
Beef with Brophy
For the 1999-00 season, Peet sought out the toughest coach to play for in John Brophy.
Peet recalls going to Hampton Roads, Virginia, and enduring three-a-day workouts before eventually making the final roster of the ECHL's Admirals.
However, after a pair of pre-season games, Brophy stormed into the locker room to confront Peet and asked him to take his skates off, which were thrown in the trash.
"They were making cuts the next day (so) I get to the rink early and there are eight garbage bags against the glass and one of them has number twenty on it. I am the first one there but the last one to be called and they hold me up there for forty minutes and basically emasculate me, telling me I am a waste of size. When you get cut in the East Coast league, you go on waivers. So I have all these coaches calling me and after the fourth or fifth call, I ask the coach of South Carolina – (which was) Hampton Roads' biggest rival – if they were taking me and he said they were."
"They buy me a ticket to go down to Charleston and I get on the bus the next morning and the last thing I do is buy a paper and I get on the bus, fall asleep and when I wake up I start reading the sports. When it mentioned the Admirals cuts, about halfway down my old coach (Brophy) was quoted saying 'The biggest disappointment was Shaun Peet, he came in like Captain America but played like Miss America.' That led me to South Carolina where my defense partner was Jared Bednar, who is now the coach of the Colorado Avalanche."
In 2000-01, after a solid season with the Macon Whoopee, Peet earned a call-up to the Wilkes Barre-Scranton Penguins, the American Hockey League affiliate of the Pittsburgh Penguins. In his first game with the "Baby Penguins", Peet lit the lamp against Worcester.
This led Peet to get a longer look under coach Glen Patrick.
"He asked me if I had clothes – I thought maybe I had smelled and only packed for the night – but they carried me for the rest of the season and it was awesome. It was so surreal because I never thought I would play in the American Hockey League so I got seven games in and we went on a run all the way to the Calder Cup final. I remember being on the ice for game four thinking if this is real. Then what happened was Pittsburgh got eliminated after our game and they sent down three of their pros and we lost in six games."
In part 2 of Clippers Confidential with Shaun Peet, he explains how he got introduced to NASCAR after being part of the worst line brawl in ECHL history. Check it out here.