Express swing a pair of deals
NEWS | #Express have announced two trades today.

The club acquired 2001-born forward Shane Lavelle from the Spruce Grove Saints in exchange for future considerations and traded 2002-born defenseman Jackson Murphy-Johnson to the Merritt Centennials in exchange for futures. pic.twitter.com/na0JFVjppd

— Coquitlam Express (@BCHLExpress) October 21, 2021
The Coquitlam Express made a pair of trades on Thursday, acquiring 2001-born forward Shane LaVelle from the Spruce Grove Saints of the Alberta Junior Hockey League and sending 2002-born defenseman Jackson Murphy-Johnson to the Merritt Centennials. Both deals see future considerations go the other way.
LaVelle hails from Chaska, MN, and had two goals and five points in a dozen games with the Saints this season. He posted seven points in 15 games with Spruce Grove in 2020-21.
Murphy-Johnson, who's from Burnaby, BC, played three games for the Express so far this season and didn't register any points. He is a veteran of 59 BCHL games.
Eagles add Rennie for 2022-23
NEWS: We are proud to announce White Rock native and forward Ewan Rennie (05) has committed to the Eagles for the 2022-23 season! #SoarWithUs

🔗: https://t.co/BvdWnmM4y5 pic.twitter.com/hwQAr4Tr6t

— Surrey Eagles (@SurreyEagles) October 21, 2021
The Surrey Eagles announced the commitment of 2005-born forward Ewan Rennie for the 2022-23 BC Hockey League season.
Rennie is from White Rock, BC, and playing for his hometown junior B Whalers in the Pacific Junior Hockey League this season. In five games with the Whalers, he has five goals and five assists.
Bucks move Harroch to Battlefords
Trade Alert! Battlefords Northstars acquire 01 G Michael Harroch from the Cranbrook Bucks in the BCHL in exchange for a PDF. pic.twitter.com/0ykyaBk74E

— North Stars (@SJHL_NorthStars) October 18, 2021
The Cranbrook Bucks have traded 2001-born goaltender Michael Harroch to the Battlefords North Stars of the Saskatchewan Junior Hockey League for future considerations.
The North Vancouver, BC product was acquired by Cranbrook this past July from the SJHL's Humboldt Broncos. Harroch didn't get into any games with the Broncos during the 2020-21 season due to the COVID-19 pandemic.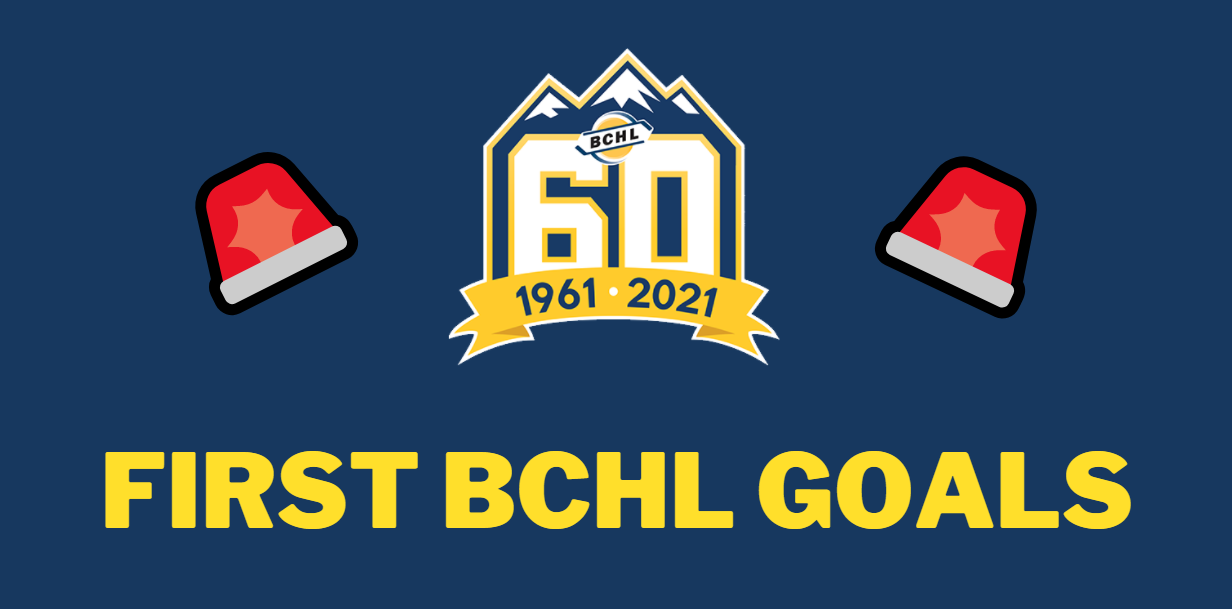 Powell River vs. Wenatchee first career BCHL goals
Anthony Lucarelli's first BCHL goal is a breakaway beauty at the #BCHLShowcase2021!@BCHLKings | @saveonfoods pic.twitter.com/nGkjiYE0EI

— BCHL (@BCHockeyLeague) October 21, 2021
Not only did 2003-born forward Anthony Lucarelli score his first BCHL goal in Powell River's 3-2 win over Wenatchee, but he got his second as well.
The Chatham, ON native had the Kings' only two goals in Wednesday's match-up with the Wild, finding twine at 11:08 of the second period and 14:28 of the third.
At the other end of the ice, 2001-born Wenatchee forward Ben Troumbly notched his first in the BCHL at 3:41 of the third period. The St. Cloud State University commit from Bovey, MN tied the score at 1-1 in his fourth career BCHL game.
Wild forward Ben Ivey got his first career BCHL goal to give Wenatchee a 2-1 lead and extend his point streak to two games.
The San Diego, CA product posted his first BCHL point with an assist in a game on Oct. 16 in Trail. He's played three games for the Wild so far this season.
Nanaimo vs. Salmon Arm first career BCHL goals
Starting the showcase off right with a Nanaimo Clippers GOAL! 1-0 ⛵️

🚨: Jérémie Payant
Unassisted pic.twitter.com/AOUwSd2K5W

— Nanaimo Clippers (@ClippersHockey) October 21, 2021
Nanaimo Clippers forward Jeremie Payant scored with 10:35 remaining in the first period on Thursday at the BCHL Showcase.
The 2002-born Saint-Lazare, QC native's goal gave the Clippers a 1-0 lead before the Silverbacks scored four unanswered to win 4-1. Payant's goal came in his fifth BCHL game after he grabbed his first point – an assist – on Oct. 15 against Powell River.
Priskie gets called up by the Florida Panthers
The Panthers have recalled Chase Priskie from AHL Charlotte.

According to the team's roster on the NHL Media page, Olli Juolevi has been placed on IR.

— David Dwork (@DavidDwork) October 21, 2021
Defenseman Chase Priskie (six goals, 14 assists in 57 games with Salmon Arm in 2014-15) was recalled by the Florida Panthers from the Charlotte Checkers of the AHL on Tuesday.
Priskie, a 25-year-old from Pembroke Pines, FL, signed a one-year contract extension with the Panthers in August. He has one assist in two games with Charlotte this season.
Three Stars of the Night ⭐⭐⭐
First Star: Penticton forward Casey McDonald finished with two goals and an assist as the Vees beat Surrey 6-2.
Second Star: Powell River forward Anthony Lucarelli had both goals in regulation for the Kings as they edged Wenatchee 3-2 in a shootout.
Third Star: Salmon Arm forward Ethan Ullrick scored in the first and third periods in the Silverbacks' 4-1 triumph over Nanaimo.
Honourable Mentions: Vees forward Brad Nadeau and Thomas Pichette each had a goal and two assists. Kings netminder Zak Brice stopped 44 shots. Victoria defenseman Isack Bandu, Vees forward Jackson Nieuwendyk, and Salmon Arm defenseman Nic Leggett each posted a pair of assists. Penticton forward Josh Nadeau had a goal and an assist.