Spruce Kings move Kern to Cowichan Valley
TRADE: The Prince George Spruce Kings have acquired future considerations from the @cowichancaps in exchange for D Ian Kern ('02).

📝–> https://t.co/bJ6ftNC9ty pic.twitter.com/Yl63N0vaBf

— Prince George Spruce Kings (@SpruceKings) October 13, 2021
The Cowichan Valley Capitals have acquired 2002-born defenseman Ian Kern from the Prince George Spruce Kings for future considerations.
Kern, who's a native of Vancouver, BC, was acquired by the Spruce Kings for 2001-born defenseman Zach Gabruch and futures on June 1. During the 2020-21 pod season with Surrey, Kern had four assists in 13 games.
Kings announce leadership group
It's now official! Dylan Finlay has been named captain of the Kings for the 2nd year in a row.

Nolan Krogfoss and Karter McNarland will serve as assistants, while Olivier Lepine, Nic Porchetta, and Dylan Hewlett will rotate wearing the "A"

Full Story – https://t.co/FUHXjZeOYp pic.twitter.com/28H9KB61JU

— Powell River Kings (@BCHLKings) October 13, 2021
The Powell River Kings unveiled their leadership corps on Monday, with 2001-born defenseman Dylan Finlay returning for his second season as captain.
Full-time alternate captains include 2001-born forward Nolan Krogfoss and 2003-born forward Karter McNarland while 2001-born defenseman Olivier Lepine, 2002-born forward Nic Porchetta, and 2002-born defenseman Dylan Hewlett will wear an 'A' on a rotating basis.
Cowichan Valley vs. Victoria first career BCHL goals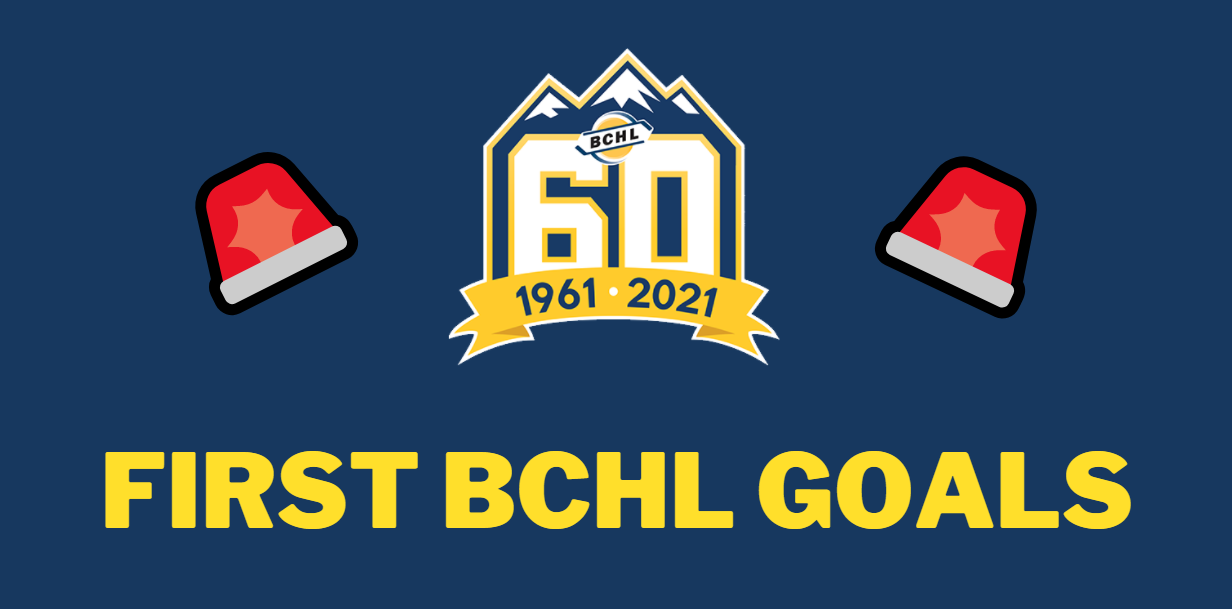 Victoria forward Cam Smith scored his first BCHL goal in the Grizzlies' 5-1 win over Cowichan Valley on Wednesday.
The marker came at the 5:22 mark of the second period to give the Grizz a 3-0 lead. It was the 2004-born hometown product's second BCHL game after making his season debut on Sunday.
Trail vs. West Kelowna first career BCHL goals
AFTER 2: Penalty issues continue as the Smoke Eaters take the lead but it was short as John Evans scores his 2nd of the night. Then @AlexiCachero scores his 1st @BCHockeyLeague goal to regain the lead.

🚨: @john_evans14 (2nd)(SH)
🍏: @AlexiCachero

🚨: @AlexiCachero (1st) pic.twitter.com/hazQ1a32Rc

— West Kelowna Warriors (@BCHLWarriors) October 14, 2021
It only took two games, but University of Nebraska-Omaha commit Alexi Van Houtte-Cachero notched his first goal in the BCHL as West Kelowna edged Trail 5-4.
The 2003-born forward found twine with 5:02 remaining in the second period to stake the Warriors to a 4-3 lead.
Cholowski waived by Seattle
The Seattle Kraken have placed defenceman Dennis Cholowski on waivers. pic.twitter.com/eXA91nwqi1

— Complete Hockey News (@CompleteHkyNews) October 13, 2021
Defenseman Dennis Cholowski (16 goals, 51 assists in 106 games with Chilliwack from 2014-16) was placed on National Hockey League waivers by the expansion Seattle Kraken on Wednesday.
The 23-year-old from Langley, BC has 10 goals and 27 points in 104 games with the Detroit Red Wings and six goals and 35 points in 69 games with the American Hockey League's Grand Rapids Griffins during his career.
Gillam goes to training camp with the Indy Fuel
Confirmed: Joey Colatarci (D) | Knoxville Ice Bears -> Utah Grizzlies | https://t.co/0eFAKrqoFz #ECHL

— EP Transfers (@ep_transfers) October 13, 2021
Defenseman Joey Colatarci (two assists in five games with Salmon Arm in 2013-14) is attending training camp with the Utah Grizzlies of the ECHL.
Colatarci, a 26-year-old from Fort Myers, Florida, split a dozen games between the Macon Mayhem and Knoxville Ice Bears of the Southern Professional Hockey League in 2020-21 and didn't register any points.
Three Stars of the Night ⭐⭐⭐
First Star: West Kelowna forward John Evans finished with a pair of goals as the Warriors beat Trail 5-4.
Second Star: Victoria forward Matthew Wood posted two goals in the Grizzlies' 5-1 victory over Cowichan Valley.
Third Star: Smoke Eaters forward Quinn Disher notched a goal and two assists against West Kelowna.
Honourable Mentions: Grizzlies forward Connor Eddy and Warriors forward Brennan Nelson each had a pair of assists.