I got this idea from a website the watches for jersey leaks and rumors on the NHL called Icethetics.com. With BC Hockey League teams, I'll look at some of the jersey changes coming this season that you might not have noticed. I did do an article earlier this year about each team's current jerseys and what the teams could do to changes to make their jerseys better.
After seeing some changes, I feel like some of the BCHL team executives may have read my article and took the ideas to heart. Here is what to expect at the BCHL rinks once the season gets up and running.
The one disclaimer I have is that often teams don't use their regular season jersey designs during the pre-season, so there is always a chance a team comes out with something completely different when the puck drops on 2020-21.
New guys stall is ready to go for tonight. Ryan Tverberg makes his @GoBCHL debut wearing number 16. #bulldogshockey pic.twitter.com/MrbEFl5qXh

— AVBulldogs (@AVBulldogs) October 27, 2020
Alberni Valley Bulldogs
It looks like no new changes for the Bulldogs this season. It appears they are sticking with their Ottawa Senators-inspired jerseys that they've had for the past three seasons.
Things are ready for tonight's game! pic.twitter.com/ak7zsfVLmT

— Coquitlam Express (@BCHLExpress) October 3, 2020
Coquitlam Express
Doesn't look like any new changes from last season. We might see more use of the retro-inspired third jersey they released last season though.
Cowichan Valley Capitals
The Capitals have come out with a new road jersey this year. It is red with white and blue striping on the forearm and bottom of the jersey.
It is a very aesthetically pleasing jersey and a far cry from the jerseys of the past few seasons. This is a very good change.
CHILLIWACK BUSINESSES!

We still have a few spots available left in our "Adopt-a-Player" program⬇️ pic.twitter.com/Mt7NkBcQe1

— Chilliwack Chiefs (@Chiefs_Hockey) November 17, 2020
Chilliwack Chiefs
The Chiefs are sticking with the same primary jerseys they've had since 2018. They did come out with a new sponsor jersey though. It is black with two crimson strips along the arms.
Cranbrook Bucks
As the new kids on the block, the Bucks introduced their first-ever jerseys since joining the BCHL this season. The only change I would make is to have the arm stripes and waist stripes symmetrical. It's a bit odd having three on the arms but only one on the waist.
I would have liked to see a bit more grey featured on the pants and gloves.
Langley Rivermen
No new changes to the Rivermen jerseys this year. I hope we get to see a new primary set for them soon.
New Nanaimo Clippers' (BCHL) Home Jersey for the 2020/2021 Season. from hockeyjerseys
Nanaimo Clippers
The Clippers have had some great jerseys over the years but this new jersey should have stayed on the drawing board. Their new home jersey is something out of the RBK Edge NHL jerseys.
It's white with black and orange stripes going down the front and widening as it goes down. The arms have a black band where the number sits that doesn't go all the way around.
They could have brought back their jerseys from the early 2000s or another retro-inspired jersey like they have before, but this is one of the worst jerseys Nanaimo has ever had.
Our Murray GM hard hat player of the game is Colton Phillips-Watts!
His first start, some huge stops, and his first win! #BCHL pic.twitter.com/Uj5l33ka2c

— Merritt Centennials (@BCHLCentennials) October 26, 2020
Merritt Centennials
Last season, the Cents introduced a third jersey with a new bull logo. This year they took that logo, put it on a new jersey, and use it as their primary road jersey. I like that they transitioned away from the retro-inspired 'turntable' logo to something that reflects the Merritt community and its ranching heritage.
We heard something about reverse retro today…

Here's a little "what-if" jersey concept inspired by our past! 🔥#OurKingdom #ReverseRetro @GoBCHL pic.twitter.com/yedB47vOa6

— Powell River Kings (@BCHLKings) November 16, 2020
Powell River Kings
No changes for the Kings this year. They are sticking with the jerseys they've had for a very long time. They did tease a retro reverse jersey, so maybe we might see it in the future.
Prince George Spruce Kings
There appear to be no changes for the Spruce Kings this season. I suspect they will introduce a new third next season after the pandemic.
We just can't get enough of our third jerseys 😍

📸 | Jack Murray#BCHL pic.twitter.com/q1A6sIJ80N

— Penticton Vees (@PentictonVees) October 25, 2020
Penticton Vees
They have added a new historic third jersey to go along with their long series of historic thirds in Vees history. Penticton is slated to host the Centennial Cup this season so there's a possibility of another third for the tournament.
My hope is a jersey based on the 1985-86 Knights, which was the first Penticton team to win the Centennial Cup.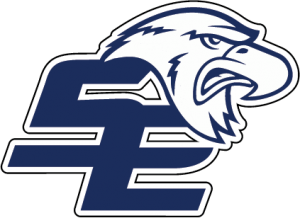 Surrey Eagles
The Eagles have released a new secondary logo and it is based on a logo they used for a third jersey in 2005. This one, however, doesn't feature any green.
They do also have a full colour version with green letters, the eagle's beak is yellow and there are some grey accents in the feathers.
It's time for #TriviaTuesday!

Answer the question in the thread & check out the full quiz for this week on our Instagram story: https://t.co/7as7Y2aSwT pic.twitter.com/uU7en5jpkM

— Salmon Arm Silverbacks (@SASilverbacks) November 17, 2020
Salmon Arm Silverbacks
The Backs look like they have again retired purple from their jerseys. If not, they haven't worn them so far this fall.
Salmon Arm has gone with the grey home primary jersey they introduced two seasons ago. It's a fantastic choice compared to going with the traditional white home jersey.
Trail Smoke Eaters
No apparent changes for the Smokies this year, they're keeping their same jerseys from last season.
Vernon Vipers
It appears there are no changes for the Vipers this season. I would like to see them go back to just their logo instead of the circle around it. The circle makes the snake look small and not noticeable.
1 minute to play in the third period pic.twitter.com/xGx9AFCw8h

— Victoria Grizzlies (@BCHLGrizzlies) September 27, 2020
Victoria Grizzlies
The Grizz went with a more traditional look with their new road jersey. It's black with a thick yellow stripe on the arms and waist. Victoria also changed the white in the circle around the logo to yellow as well.
In his 1st competitive game in over 8 months, @Kelowna_Rockets goaltender Roman Basran settled in nicely after the first 20 minutes propelling the Warriors to a 4-3 shootout win Friday.

RECAP: https://t.co/b2yyizZN3P

📸: Lisa Mazurek Photography#BCHL pic.twitter.com/9WpCOYiMwW

— West Kelowna Warriors (@BCHLWarriors) October 24, 2020
West Kelowna Warriors
It's hard to tell if the Warriors made any changes as they have up to five different jerseys from what I've seen during the Okanagan Cup. They kept their black road jerseys with the cream coloured middle stripe and the white home jerseys with red shoulders and the spartan shoulder patch.
However, these jerseys could just be for the preseason and they could end up going with the cream coloured jersey with a red middle stripe that matches their black jerseys.
Development Team Players Maximizing Opportunities within the Wild Organizationhttps://t.co/szodMXRIMs pic.twitter.com/Wxc257aC4n

— Wenatchee Wild (@WenatcheeWild1) November 18, 2020
Wenatchee Wild
Wenatchee looks like it took my criticism of their jerseys last season to heart as they are the only team to change both primary jerseys for this season. The Wild went with an early-90s era Hartford Whalers-inspired striping by adding grey to its colour scheme.
Final thoughts
Wenatchee and Merritt win the day by going with a change for the better. I would like to see Penticton honour the Broncos, Knights, or Panthers with a historic jersey. Maybe even a Paul Kariya-era Panthers jersey.
Langley is due for some new jerseys. The Rivermen have had a third jersey, but most franchises by the decade mark make some sort of change to their primary home and road jerseys.